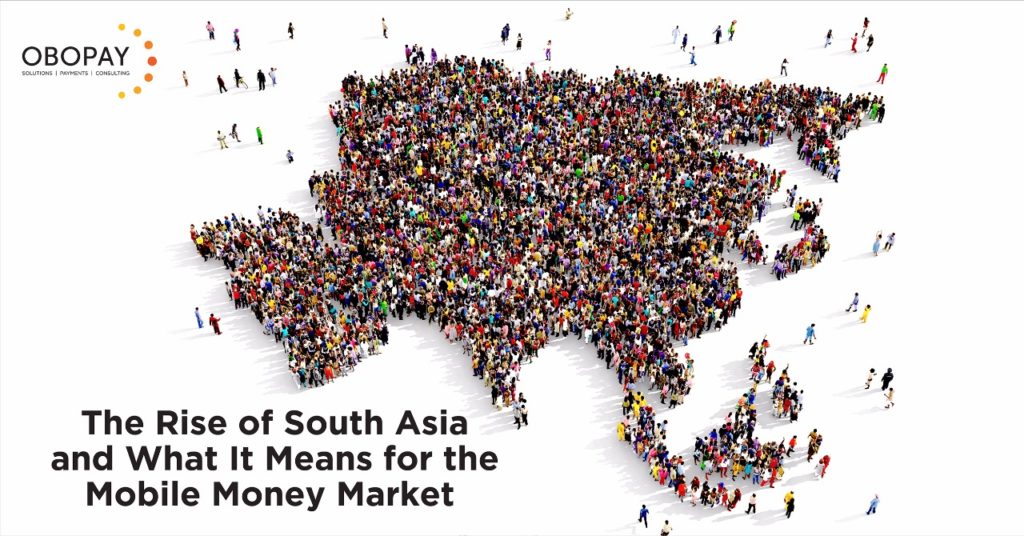 The Rise of South Asia and What It Means for the Mobile Money Market
Largely dominated by India, the sub-Himalayan region of South Asia has emerged as one of the fastest growing mobile money markets in the world. In 2017, the region saw one of the highest year-on-year growth at 47%, as noted in GSMA's State of the Industry Report 2017. It also accounts for 34% of registered mobile money users globally. These numbers indicate the key role mobile money solutions are playing in driving financial inclusion in the emerging markets of South Asian countries.
Bridging Economic Opportunities via Financial Inclusion
The growth of mobile money solutions has helped bridge economic opportunities and drive financial inclusion in South Asian countries. Owing to their vast populations and the developing nature of their economies, a large number of people in these countries lack direct access to financial services. Traditional banks have high operational costs and are difficult to set up in rural and remote areas. However, with mobile-based solutions, the operational cost of financial services can be reduced and a diverse population can be served. This promotes financial inclusion by bridging economic opportunities.
Key Contributors to the Growth of Mobile Money Solutions
The growth of the mobile money industry in the region is driven by the following key contributing factors:
Increasing mobile penetration: Mobile penetration in South Asian countries has been on a significant rise over the last five years. This has been fueled by the launch of more affordable phones and the reduction in tariffs on data plans. India, for example, crossed the 1 billion registered mobile phones mark in the year 2016. Of these, close to 500 million are estimated to be smartphone users. Increased mobile penetration means that even individuals who earlier lacked access to traditional banking can now use mobile-based financial services.
Large unbanked population: South Asian countries are home to a vast unbanked population, most of whom stay in rural and remote areas. As per the World Bank, India has 190 million unbanked people, which is about a sixth of the country's population. In Pakistan, this number is close to 100 million, which is more than half the country's population. More than half of Bangladesh's population remains unbanked as well. By focusing on this segment, mobile payment providers will be able to increase their market share at a higher rate than their counterparts in developed economies.
Regulatory push towards digitization: A strong regulatory push towards digitization of financial services can be seen in all South Asian countries. Ensuring smooth and secure digital transactions, protecting the needs of the consumer, and adopting measures to regulate the mobile payments industry, are all steps towards a digitally-enabled future.
India: Leading the Charge
India is leading the economic growth in the South Asian region. With over 56 million users at the end of 2017, India currently has one of the largest mobile payments markets in the world. Disrupting as well as complimenting the banking infrastructure, fintech players have transformed the country's financial services ecosystem.
A strong governmental push towards digitization has added to the growth of the mobile money market. Programs like Digital India and India Stack have provided the digital infrastructure a boost. Bharat QR, a quick response (QR) code-based payment method, and Bharat Interface for Money (BHIM), a mobile-based money transfer application, were also launched by the government. Private companies, including banks, continue to launch mobile money platforms At the end of 2017, there were over 50 operational mobile wallets in the country, with PayTM, FreeCharge, MobiKwik, PayUMoney and Citrus Pay being some of the leading names.
The demonetization announced towards the end of 2016 further accelerated the need for mobile payments. As banknotes of denomination Rs. 500 and Rs. 1000 were taken out of circulation, there was an extreme shortage of cash in the country. People had no choice but to use mobile wallets and other digital solutions. PayTM registered over 700,000 users a day that month. This rise of mobile payments in India is leading other South Asian countries towards adopting digital financial solutions as well.
Contributing to UN's Sustainable Development Goals
The impact of mobile money extends beyond the financial landscape. It is proving to be an essential tool for meeting the United Nation's Sustainable Development Goals (SDGs). These SDGs include goals such as zero hunger, no poverty, clean water and sanitation, quality education and healthcare, gender equality and economic growth.
With increased connectivity and innovative services, mobile money solutions are contributing to 13 of the 17 SDGs. They are enabling healthcare and education services, providing employment opportunities, and reducing poverty by offering vital financial services across a diverse landscape. For South Asia's emerging markets that still lack universal availability of basics such as clear water and sanitation, education, healthcare, and food, this is a major step forward.
Obopay: Enabling Sustainable and Scalable Mobile Money Solutions
With its market-leading technology, Obopay offers white-labeled mobile money solutions to companies which can be rebranded as their own. Their banking grade payments platform offers end-to-end mobile and micro payments functionalities, including instant payments. Currently, Obopay is in consultation with various banks and corporations worldwide to help them digitize payments and improve their overall customer experience. Additionally, Obopay has helped a range of partners, including hospital chains and armed forces in India, set up their own close-loop wallets.