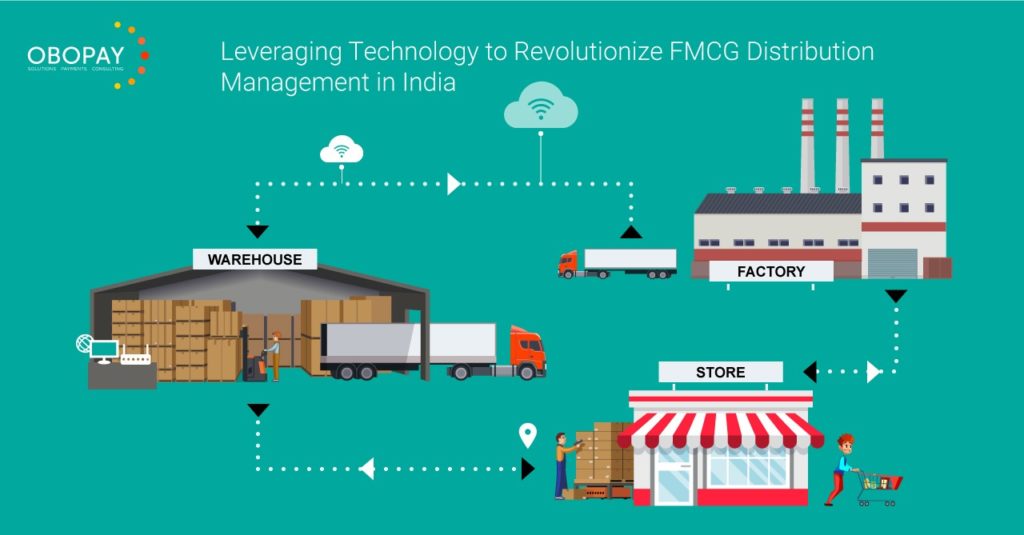 The Indian FMCG industry is characterized by a complex maze of intermediaries and players, including distributors, wholesalers, sales representatives and retailers. While it is among the key industries in the country, much of it is unorganized, with local convenience (kirana) shops and mom-and-pop stores playing a dominant role. The abundance of intermediaries continues to be a challenge for FMCG companies seeking to increase their coverage of retail outlets.
Over the last two decades, the retail and consumer landscape has seen a gradual transition, first in the form of malls and supermarkets, and more recently through the arrival of e-commerce. Riding on the wave of low mobile data costs and high internet penetration, India's digital economy has an unprecedented growth in the last two to three years. Digitization offers immense opportunities for FMCG companies to rationalize their operations and overcome existing shortcomings in their supply chain and distribution networks.
India's FMCG industry was estimated to be $49 billion in 2017. By 2022, it is expected to reach a size of nearly $104 billion. It is also estimated that by 2020, nearly 40% of FMCG purchases across categories like baby care & fragrances, and laundry and toilet care, will be digitally influenced. By the same time, e-commerce as a distribution channel for FMCG is expected to reach a size of $6 billion. To optimize the distribution network operations, and reduce risk and cost, the FMCG industry would need a robust distribution management system.
Leveraging digitization to transform distribution networks
As with other industries, technology and digitization are expected to play a big role in transforming the operations of FMCG companies. Realizing this potential, organizations are not only leveraging digital technologies to change their front end (customer interfaces) but also their backend (supply chain and distribution networks). On the customer-facing side, FMCG companies are using predictive intelligence tools, including artificial intelligence (AI), to delve deeper into end-customer preferences and offer innovative products. E-commerce is also helping companies harness the power of Big Data and analytics to study customer buying patterns.
Perhaps the biggest contribution of digitization will be in the way FMCG companies manage their sales and distribution processes, and the way in which they interact with retailers. Given India's diverse demographic landscape and region-wise customer preferences, FMCG companies will need to adopt intelligent distribution systems across the supply value chain. This will not only streamline their operations and produce efficiencies of scale, but also equip them to reach retailers directly instead of depending on a vast network of intermediaries.
Many FMCG distributors deploy platforms such as the Distributor Management Systems (DMS) to enable effective sales management and streamline operations. Digitization will help these platforms, which largely operate in a standalone capacity, to move online. Such a transition will result in significant benefits for FMCG companies, including improving productivity, ensuring uninterrupted delivery processes and optimizing the supply chain. It will also help them in responding faster to market and customer demands.
Are FMCG companies equipped to rise above distribution challenges?
There is a long way to go before Indian FMCG companies can solve the challenges of designing, constructing and operating their distribution channels. For the FMCG industry, effective and timely replenishment cycles are directly proportional to a brand's value and final retail sales. India's retail landscape is highly fragmented; moreover, it is largely dominated by the unorganized segment of the market. Due to India's diverse demography and vast size, even companies in the organized segment sometimes take years before getting their distribution processes right.
FMCG companies also need to overcome challenges related to multiple intermediaries in the supply chain. In rural markets, logistical issues such as poorly-maintained roads and lack of well-connected transportation systems thwart efforts to increase the efficiency of companies' distribution systems. While there has been a shift towards digitization and the use of e-commerce as a distribution channel, the utility and efficiency in the Indian context has not yet been adequately tested.
Sources:
Indian FMCG brands are Digitizing their Distribution Network
The secret sauce in distribution
Rise in digital economy creating FMCG 2.0
How Mobility & Analytics are Transforming India's FMCG Sector
How FMCG Firms Are Transforming Digitally
Digital transformation in the Indian consumer goods industry
Decoding Digital Impact: A $45 Billion Opportunity in FMCG
EMPOWERING FMCG COMPANIES AND KIRANA STORES: INDIAN STARTUP SNAPBIZZ GIVES REAL TIME INSIGHTS ON CUSTOMERS BEHAVIOUR