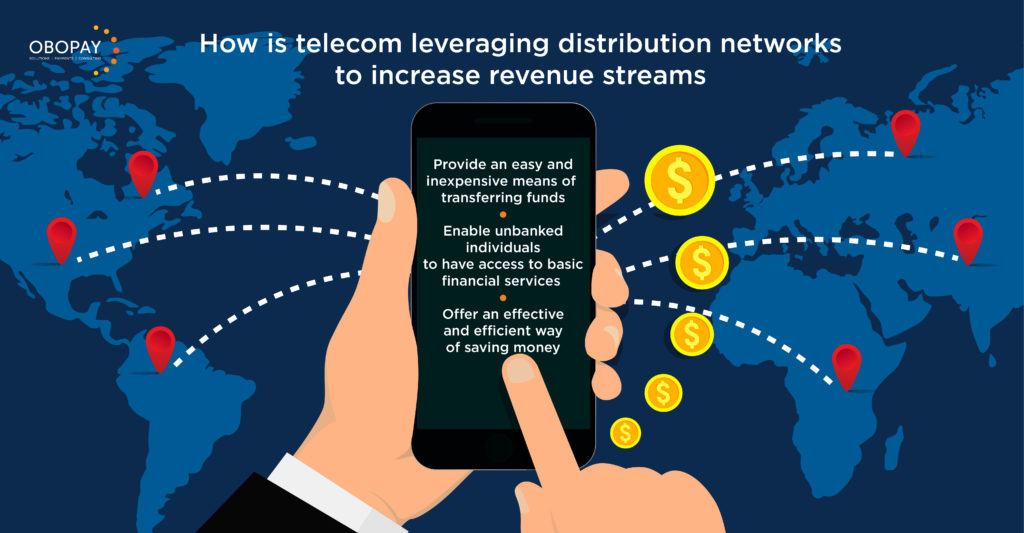 How is telecom leveraging distribution networks to increase revenue streams
The outlook of the global telecom industry remains discouraging as it struggles to generate revenues from core services such as messaging and voice calls. The key challenges faced by telecom companies are commoditisation and market saturation. As per GSM Intelligence, global mobile revenues are expected to grow at a CAGR of 1% between 2017 and 2020, stabilising at $1.1 trillion beyond 2020.
In the past, mobile segment fuelled the growth of the telecom industry. Although developed markets are approaching saturation, developing Asian countries continue experiencing stronger growth. This is mainly due to higher penetration in rural areas and access to affordable mobile devices and lower tariffs.
Intensified Competition from Over-The-Top (OTT) Players
Telecom companies are facing fierce competition from OTT players and internet companies. These technology-focused companies have redefined service offerings through innovation. OTT companies such as Skype, WhatsApp, and WeChat are able to deliver core services – voice, messaging and video calls – at a much lower price than telecom companies. To avail these services, consumers just require data (internet) which has now been commoditized. Trends indicate that consumers switch between data providers based on the cheapest price, forcing telecom companies to reduce their margins significantly.
This is further substantiated by McKinsey research which suggests that in an aggressive scenario, the share of OTT players in messaging, fixed voice, and mobile voice could reach 60%, 50% and 25%, respectively by 2018, from 9%, 11% and 12% during the last few years.
Opportunities Beyond Core Businesses for Telecom Companies
With rapid changes in technology and a new competitive landscape, telecom operators are moving beyond their traditional businesses to explore new revenue streams. This strategic play differs between developed and developing countries. The main forces shaping the telecom industry are:
Telecom-cable TV-media convergence
Rise in Internet of Things (IoT)
Evolution of a digital ecosystem
In the US, AT&T has made forays in the Media and Entertainment industry. Verizon has made multiple acquisitions across verticals – digital media and advertising and IoT. Asian operators such as Turkcell, SK Telecom, and Singtel have diversified in the digital consumer space, offering a wide array of digital services such as fintech, e-commerce, and digital marketing solutions.
Mobile money is an extension of a telecom company's existing service offerings which utilizes its current distribution networks. The Indian markets are flooded with mobile wallets who are wooing users by offering consumer discounts, cashbacks, and vouchers. Major telecom companies have launched their mobile wallets – Airtel Money, Idea Money, Reliance Jio Wallet, and Vodafone M-Pesa – enabling their customers to make digital payments.
Developing Countries will be Instrumental in Boosting Growth  
According to GSM Intelligence, the global mobile subscriber base was more than 5 billion in 2017; this is expected to reach 5.9 billion by 2025, representing 71% of the world's population. Developing countries are driving revenue growth, consuming a range of mobile-enabled services for agriculture, health, finance and utilities. India alone will add more than 200 million new subscribers between 2017 and 2025, followed by China with 70 million new subscribers. During the same period, sub-Saharan Africa, Latin America, and three Asian countries (Pakistan, Indonesia and Bangladesh) will add more than 350 million new subscribers. In 2016, more than 100 million new mobile money accounts were registered.
Why Mobile Money is Flourishing in Developing Countries
Currently, 1.7 billion people across the globe remain unbanked, of which two-third own a mobile phone that could help them access basic financial services. This offers a significant opportunity to telecom companies for mobile money services. Additionally, the benefits of mobile money are fuelling the growth in developing markets since they
Provide an easy and inexpensive means of transferring funds
Enable unbanked individuals to have access to basic financial services
Offer an effective and efficient way of saving money
Help in achieving financial inclusion of rural and semi-rural populations
Provide access to other financial services such as insurance and loans
Mobile money has a great potential to impact people's lives positively. The success of M-Pesa in Kenya (offered by Vodafone and Safaricom), MTN mobile money in Ghana (offered by MTN and ten banks in Ghana), GCash in Philippines (offered by Globe Telecom) and Easy Paisa in Pakistan (offered by Telenor Pakistan) are examples of the vast opportunity available in growing markets.
Obopay's Platform to Support Mobile Companies
Obopay plays a critical role in supporting mobile companies to increase and retain their customer base through its robust and secure interface for payment solutions. Airtel Money in Africa and Warid Telecom in Uganda have launched their mobile money services in alliance with Obopay. Evolys, Obopay's payment platform, offers real-time event monitoring capabilities, making it ideal for mobile money transfers. Also, it is highly scalable, handling over 11% of global mobile money transactions every day. Obopay has handled 3 billion transactions with zero variance and fraud cases so far.
Currently, Obopay is present in four of the top five mobile money markets in the world.