---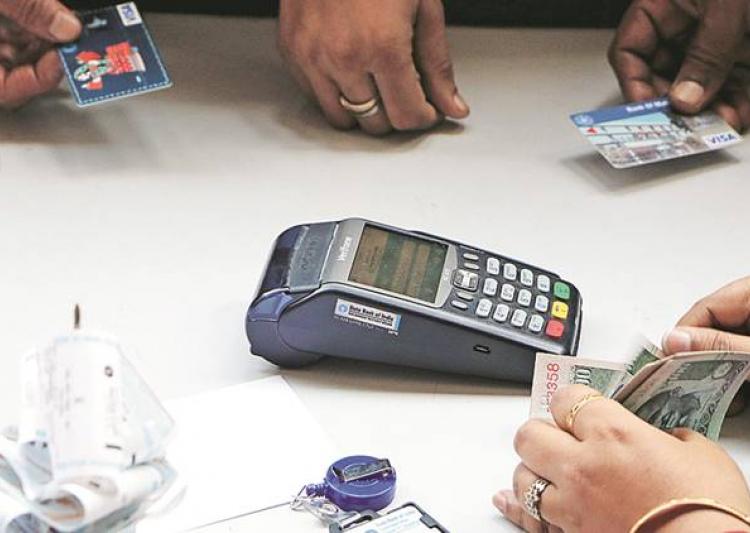 The Case for Cashless Interactions With The Government
50 days after India's demonetization announcement, and 91%1http://economictimes.indiatimes.com/news/economy/policy/90-per-cent-of-scrapped-notes-back-in-system-big-dividend-unlikely/articleshow/56211433.cms of the country's scrapped currency has been returned to the banks. The Indian government has been pushing people and businesses into adapting to cashless transactions. Both the government and the private sector (card companies and digital wallet providers) have evangelized each other's causes for a digital economy. Many local businesses have adjusted to the environment and have been accepting cashless payments. People who have the means, literacy and capability have moved to cashless transactions wherever possible.
Even as the country sorts out issues of Internet connectivity, technical competency, security, ethics and social realities, The utopian/dystopian (depending on which side of the debate you are on) idea of a cashless economy is slightly too far away to be realized in the immediate future. But meanwhile, we would do well to create an ecosystem that makes physical cash secondary to everyday transactions.
One major area which would benefit from cashless payments is person-to-government transactions. Eliminating (or at least, minimizing) cash from citizens' interactions with the government would drastically increase transparency and accountability. The following are instances of payments made by the public to the government:
Utility bills
Driving license issuances and renewals
Taxes
Any government ID, including passports and Aadhar cards
Traffic fines
Government educational institutes
Cooperative food stores
Birth and death certificate issuances
Government transport tickets (train, bus)
Telephone connections
Tourism
Life insurance
As a case in point, during the year 2015-162http://transport.karnataka.gov.in/uploads/files/Annual%20Report_ENG_15_16.pdf, the Karnataka Transport Department collected a sum total of Rs. 169.41 crores towards taxes and fines from vehicles, while checking vehicles under the Motor Vehicles Act 1988.
The number of transactions the transport department handles can be gauged from these numbers. There were a total of 1,506,384 vehicles registered in Karnataka in the year 2015-16. A total of 1,512,561 new driving licenses were issued in 2015-16. 80,151 certificates of registration were renewed.
These are transactions that can be eased by reducing the cash component. However, "cashless" does not have to mean online payments. Cards and digital wallets can majorly ease up cash-handling pains at the points of service.  This will also discourage middlemen and touts, besides help significantly in the settlement and reconciliation processes.
The challenge will be in getting the economically weaker sections of Indian society to adapt to cashless transactions. These are the people more likely than the rest to have personal interactions with government services, and subsequently, the more likely to be victimized by corrupt officials.
Are mobile apps the solution? Perhaps not (yet), because our smartphone penetration is only 21%3http://www.news18.com/news/tech/oppo-working-on-plans-to-set-up-manufacturing-unit-in-greater-noida-1328186.html, and even if smartphone ownership rises, the processes of downloading apps, setting up logins and passwords, and use OTPs will be a challenge to many. While debit cards linked to Jan Dhan accounts (Rupay cards are a step in this direction) are one solution, smart biometric Aadhar-linked stored-value cards (acting as wallets) could be another.
On December 21 2016, there were over 26.03 crore Jan Dhan accounts4http://pmjdy.gov.in/account, with 46.65 lakh accounts having been opened in the 5 weeks after demonetization5http://www.thehindubusinessline.com/news/india-adds-47-lakh-new-pmjdy-accounts-postdemonetisation/article9432465.ece. Only 24% of the total number of Jan Dhan accounts are zero-balance accounts. This is a good sign, as it shows a greater participation (as opposed to mere presence) by the populace in the formal financial system.
The NPCI issued a total of 317 million Rupay cards, including 205 million cards to Jan Dhan account holders6http://www.livemint.com/Industry/1XiYWh6DhsEAFrAqE6tJFO/RuPay-card-usage-at-PoS-terminals-surges-7-times-after-demo.html. The daily usage of Rupay cards at terminals is 2.1 million, up from 3 lakh a day before demonetization7http://www.dnaindia.com/money/report-demonetization-has-boosted-rupay-card-usage-by-seven-times-npci-2287022. However, whether the intended target segment is using these cards is a question that needs some investigation. According to a bank in Chittoor, only 20% of the Rupay cards it issued were being used8http://www.thehindu.com/news/national/andhra-pradesh/Going-cashless-Sapthagiri-Bank-gears-up-for-awareness-drive-on-RuPay-cards/article16751618.ece. The bank reported that rural customers had fears about security and thus were afraid to use their cards. The trick here is to increase consumer awareness about cards and safety measures.
In order to pave the way for a digital economy, the government must push digital payments in its own realm, by making it easier for citizens to transact with its own entities without cash. It is already on its way there, with initiatives like PayGov India (a payment gateway), the Aadhar-Enabled Payments System (AEPS, as part of the ambitious India Stack project), the Bharat Bill Payment System (BBPS). Further steps in this direction would not only serve as examples for the rest of the economy to follow suit, but also make the process of running the country smoother.